One of the coolest parts about working at Hive is learning about the projects – both tangible and intangible – that customers are able to execute because of our platform. And when we spoke with Vega, a leading plant-based nutrition company, we knew their use case could help guide other Hive teams who also focus on innovating and bringing new products to market – whatever those products may be.
But first, let's talk about the Vega team. Passionate about making delicious, plant-based nutrition that's good for the planet and those who live on it, Vega has been helping consumers improve their health and performance for over 20 years. Vega creates delicious plant-based products suitable for all activity levels and goals – whether it's getting more greens in your diet or helping replenish your body after a workout. While Vega began with protein powders, the organization is always seeking new, innovative ways to pack more plants into your diet.
But innovating and launching new products isn't as simple as just coming up with a cool new idea. When we talked with Carolyn Derynck, Vega's Senior Manager of Innovation Go-To-Market, she emphasized that there are many steps between ideating a new protein powder flavor, for example, and actually getting the product on store shelves. That's where Hive comes in. 
Read on to learn how Vega is managing all product-related projects in Hive – from innovation to distribution to reporting – to meet strategic business goals more efficiently than ever before. We are sharing the ins-and-outs of the following processes in Hive:
Managing all product development and innovation

Reporting on KPIs to senior leadership 
1. Managing Product Development and Innovation
When Vega's innovation team comes up with new products, the entire workflow – from initiation to delivery – is tracked within a Hive project. 
Using project templates to easily kickoff every new product innovation
Vega relies on templates for carrying out every new product innovation project. Vega has created three main project templates in Hive – Tactical innovation products, Progressive innovation products, and Disruptive innovation products – based on what steps it will take to bring the new product to life.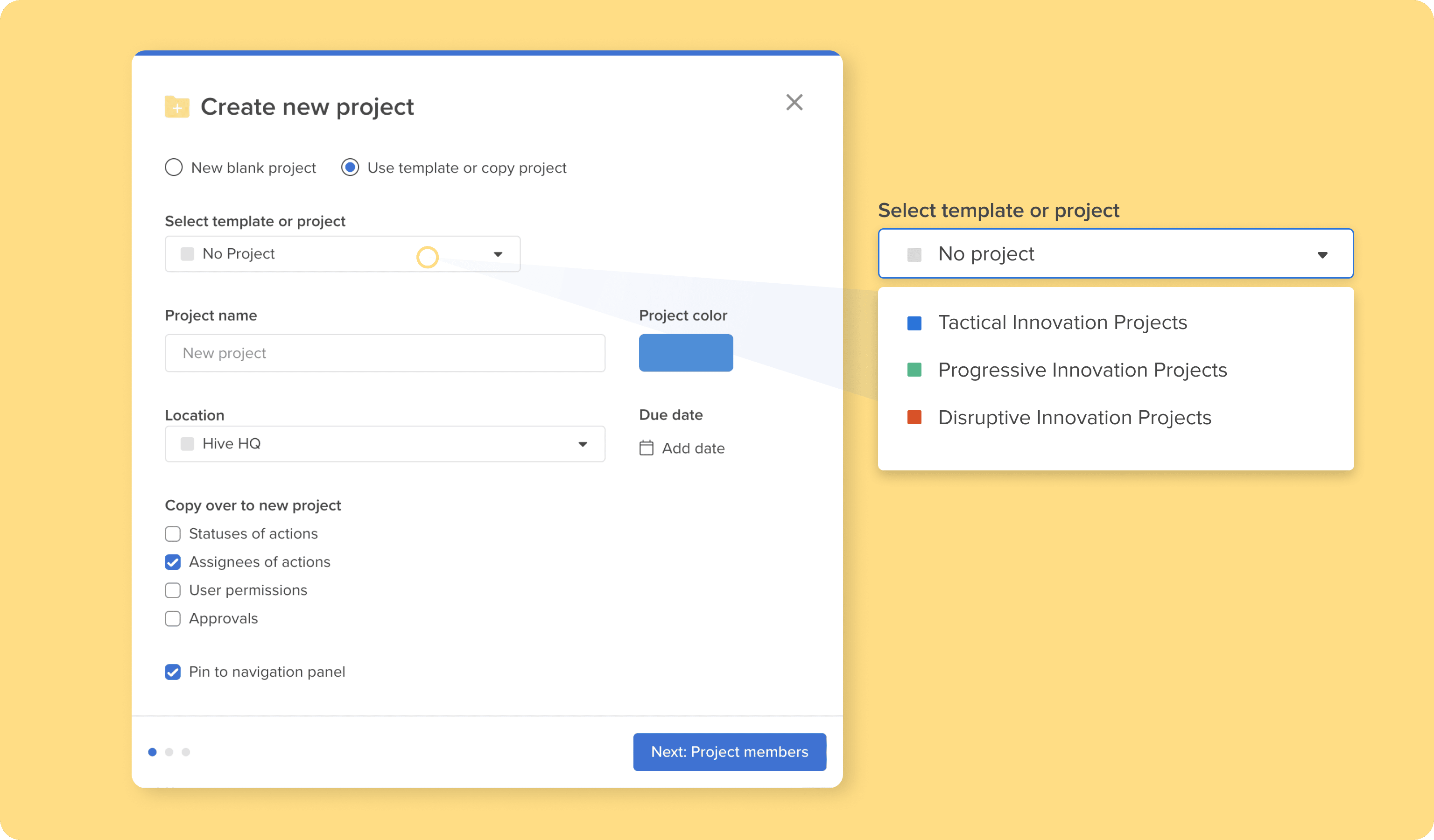 Once the scope of the new product is identified, the team can set up the project in Hive with just a few clicks. The project is then automatically populated with Action cards, assignees, and due dates based on expectations for how long the steps will take. 
Let's look at the three types of Innovation Projects Vega works on, using protein powder to exemplify what a corresponding product innovation would look like for each:
A) Tactical Innovation Products 
These products are extensions or revisions of existing items Vega currently produces. These are the "simplest" in terms of work required to launch the product. These templates are more straight-forward – any time a new tactical innovation comes through, they can create a new project from the template and immediately begin the workflow. 
Example: Adding a new vanilla flavor to an existing line of protein powders.
B) Progressive Innovation Products
These products are similar to other products that Vega currently produces, but have new components that are more than just an extension or renovation. It's a new product in that there might be different steps, more research involved, or some other key differences in the workflow. Vega's Progressive Innovation Project templates reflect the additional steps that need to be taken to launch the product.
Example: A powder that is new to Vega's assortment of existing products.
C) Disruptive Innovation Products 
These products tap into brand new categories for Vega. When it comes to Disruptive Innovation products, speed is crucial. To help the team progress through these projects as quickly as possible, Vega is working on implementing the agile methodology here, using sprints to help them ideate and create prototypes faster than usual.
Example: A protein bar. 
2. Reporting on KPIs to the Senior Leadership Team
Managing all of its innovation projects is one thing – but communicating progress toward launch and reporting on KPIs is critical for leadership to understand progress towards bigger, strategic goals. 
To do this, Vega has a monthly stage gate meeting where the Senior Leadership Team (SLT) reviews all active projects across the business. Before Hive, the team manually created a PowerPoint each month to convey this information. Now the SLT has simply created a Portfolio View in Hive to bring all of this information to one place.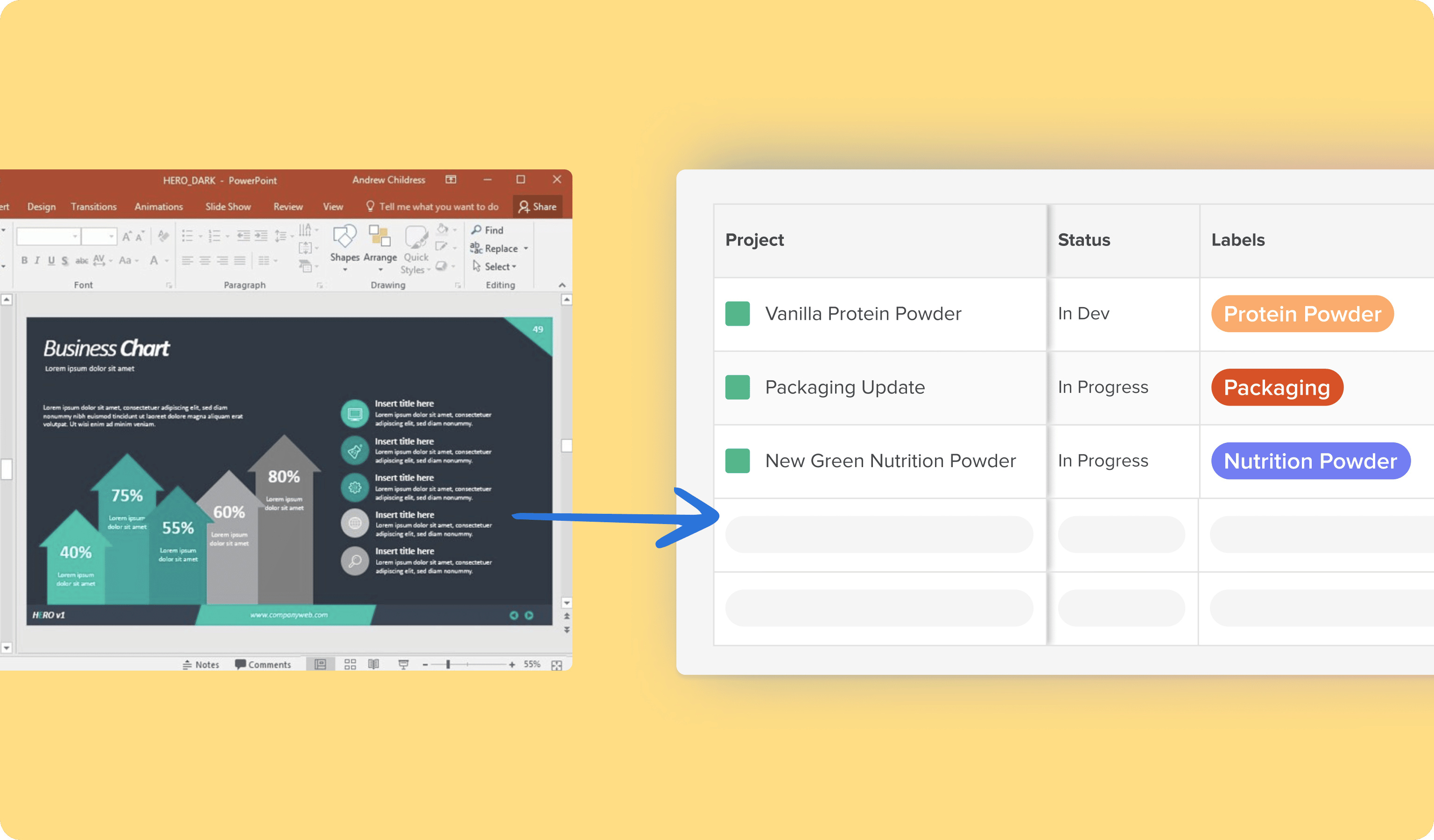 Our curated Portfolio view is getting rid of a manually created PowerPoint that we used to do on a monthly basis. Instead of showing a snapshot at one time, everyone can access the Portfolio view, which is living and breathing and updated on a daily basis.
Here's how Hive's Portfolio View streamlines Vega's reporting process and saves everyone countless hours of manual labor.
Using Portfolio View to Track KPIs
So how does Vega use Portfolio view to track specific KPIs? In each project, Vega has added custom fields that align with specific KPIs and metrics they want to track. This Portfolio view pulls information from these custom fields across projects. So as long as employees update the KPIs for each project, it's automatically pulled into the Portfolio View when needed at the end of the month.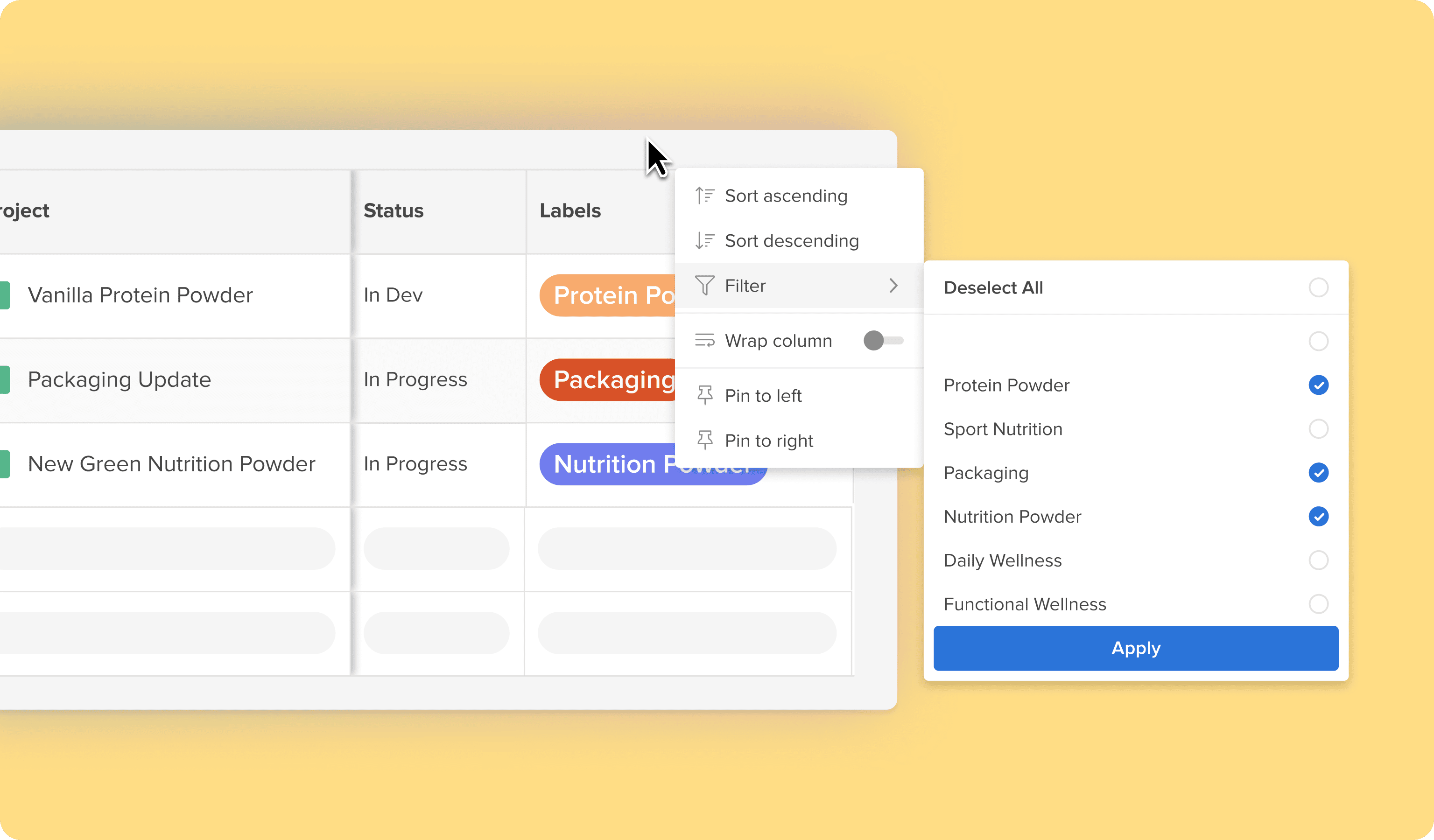 We're now driving our full stage gate process out of Hive. Within each project, we add our custom fields that we've been reporting out on. This means everyone is managing metrics and KPIs in the same place that they're actually managing their project, and then it's automatically reported out in Portfolio view.
In addition to reducing the manual work of compiling data, Portfolio view allows the team to get a big-picture view at any given moment – not just on the day of the monthly meetings. Portfolio View updates automatically to reflect project progress in real-time, so the SLT can stay informed and see a snapshot glance with just the click of a button. And if someone does want more information, they can easily click into the project to see the full context. 
Hive is the perfect tool for our Senior Leadership Team to have a quick snapshot, but also to have the opportunity to click on a project and go into the details if they want to.
Conclusion 
With the help of Hive's project templates and insightful reporting capabilities, Vega has created the ultimate end-to-end model for launching new products. Knowing that they now have the right tools and structure in place, Vega can now focus on the bigger goal – creating exciting new products and staking its claim as the leading plant-based nutrition brand. 
👉 Are you interested in managing end-to-end product development? Or maybe you just want a tool to help you manage your everyday workload? Try Hive free for 14 days and see why brands like Vega have never looked back.